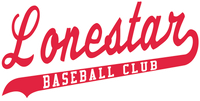 Lonestar Baseball Club
Our goal is to provide a winning experience through professionally run sports programs. We believe that the best way for athletes to reach their true potential is through a combination of professional coaching, maximum practice repetitions and significant game experience. We are also fervent believers in having a blast at all times! NO ONE has more fun playing baseball than Lonestar Baseball Club. We encourage our boys to get outside and play ball! 
YETI Baseball Club dba as Lonestar Baseball Club is a registered 501(c)(3) nonprofit.